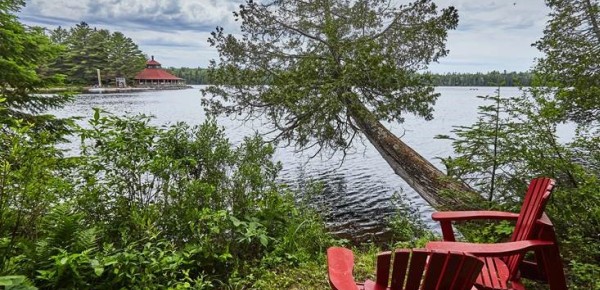 Welcome to Arowhon Pines in Algonquin Park!
We're open Jun 2nd - Oct 8th, 2023 and Jun 7th - Oct 13th, 2024
All-inclusive resort offering romantic getaways, family and friend trips, celebrations, reunions and weddings for up to 100 people.
Peace & quiet, 8 km off the main road in the middle of the woods on Little Joe Lake - no motor boats, no highway traffic.
Three meals per day included with your stay, served in our heritage lakeside log dining room. Food is made from scratch, using quality local ingredients. WHERE TO EAT IN CANADA: "the food, which is without question the best in memory." Comfortable bedrooms with private bathrooms in rustic log cabins along the lakeshore ranging in size from 3, 4, 8 and 12 rooms. Also available are luxury Private and 2 Room Cabins with beautiful screened porches. Carte blanche use of all recreational facilities - canoe/kayak a chain of lakes, hike trails to see moose, sail, swim in the lake, SUP, play tennis, relax, plus a vehicle pass to explore all of Algonquin Park.